Roulette, a long time tradition in European casinos, is an exciting game that is easy to play. It was introduced in mid 18th century France by Sartine, police magistrate.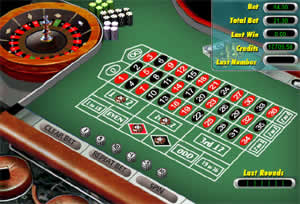 How to Play
CHANGING BETS
Change your bet by selecting an amount using the Bet Console in the lower center of the screen. If you raise the amount higher than your current balance permits, your bet will not be placed. In this case, either increase your balance by depositing funds, or reduce your bet. The bet limit is based on the table selected.
PLACING BETS
Each time you left-click inside the designated betting areas on the Roulette table, you will place your current bet amount on the table adding to any chips that might already be there. To remove your current bet amount from the table, press clear bet.
SPINNING THE WHEEL
Once the minimum bet of $1 has been placed on the table, the SPIN button will light up indicating you may click it to start the wheel spinning. Once the wheel is spinning you can no longer add or remove bets. When the wheel comes to a stop, the winning number is determined by what numbered compartment the ball comes to rest in. If you placed a bet on that number, or a bet on any position that spans that number, you will win the appropriate payout (see PAYOUTS).
If you have already spun the wheel once, the SPIN button may remain lit without any bets on the table. Clicking the SPIN button without any bets on the table will start the wheel spinning using the same bets made for the previous spin. This is a quick way to repeat the last bet without having to place all your chips again (balance permitting).
Rules
OBJECT OF THE GAME
The dealer (also known as the croupier) spins a roulette wheel containing 38 compartments in one direction, while rolling a ball into the wheel in the opposite direction. The winning number is determined by where the ball comes to rest among the 38 compartments.
HOW TO PLAY
The Bets. Select an initial bet amount and click on any of the designated betting areas to place your chips. A minimum of $1 must be placed on the table before the wheel may be spun. There is a maximum limit of $100 on the table. To help you place bets, a small display at the bottom of your screen will indicate all the positions you will be betting on as you move your mouse over the table. Once your bets are placed, click the Spin button to start the wheel spinning. Bets cannot be made or removed once the wheel is spinning.
Payouts
Roulette Table Payouts

Bet

Pays

Red

1 to1

Black

1 to1

Odd

1 to1

Even

1 to1

1 to 18

1 to1

19 to 36

1 to1

1 to 12

2 to1

13 to 24

2 to1

25 to 36

2 to1

Any one number

35 to1

Two number combination

17 to1

Three number combination

11 to1

Four number combination

8 to1

Six number combination

5 to1

0, 00, 1, 2, 3, combination

6 to1